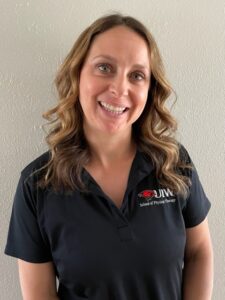 Leah received her Doctor of Physical Therapy degree from the University of the Incarnate Word in San Antonio, TX in 2015.
Leah's career has primarily been in neurological rehab, and she is passionate about treating patients who are navigating a multitude of neurologic injuries including stroke, TBI, Parkinson's Disease, Multiple Sclerosis, vestibular and neuropathic injuries. 
Leah holds a current certification in Neuro-Developmental Treatment (NDT) and has completed courses for specialized evaluation and treatment of vestibular / oculomotor disorders, balance and coordination training and facilitating gait and functional mobility.
Leah moved from San Antonio to Denver in May 2017. She is married and has a son named Bode. In her free time, she enjoys gardening, gourmet cooking, hiking, watching and playing sports, and exploring different mountain towns in Colorado.